25th anniversary of Lemezbörze,…plusz / 100th International Record and CD Fair

19.09.2020
We celebrated the 25th anniversary of Lemezbörze,…plusz and the 100th International Record and CD Fair was also organized in the Óbuda Cultural Centre same place same time. A flash mob made up by the team of Billy Holmes (UK), Magdi Bódy, Éva Fábián, Marcellina, János Kegye and Mátyás Várkonyi boosted the mood and the annual Fair Award was presented to Mátyás Várkonyi an Erkel Ferenc prize-winning composer & scriptwriter and ZéGé founder and front man of the 'General' band. We take this opportunity of thanking the M2 Petőfi TV Channel for shooting the event on site.

Imposing and valuable relics keep the recollection of these anniversaries for posterity. More than 25 international stars including musicians, actors and sport champions gratulated for the first 25 years of Lemezbörze,…plusz. In addition to the written compliments the very first commemorative stamp sheet of L+ ("In Memoriam Elvis Presley") overprinted in four colours was placed in a graceful four-page pictorial presentation folder. The 100th International Record and CD Fair overprints were made in Hungarian and English in silver and respectively in gold colours. We designed a postcard and a relevant stamp and the Hungarian Post Office used occasional stamps on the day of the Fair.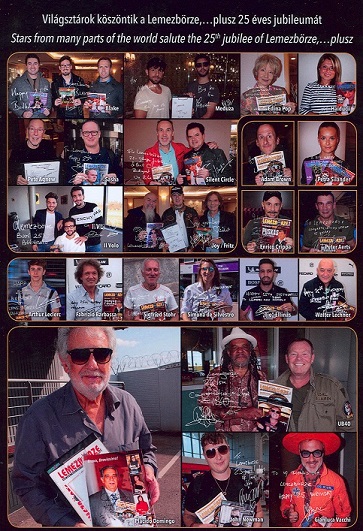 More than 25 international stars including musicians, actors and sport champions salute our media which have served the public for a quarter of a century.

World-famous opera singer
Placido Domingo
, the Italian maestro of The Three Tenors, who by the way is a fan of Real Madrid and the soccer player Puskás, was one of the first to drop a line with his greetings.
John Newman
is one of the most trendy English composer-singers these days. "Ali" Campbell and Astro of
UB40
, the Birmingham based dub/reggae formation salute L+.
Pete Agnew
bassist is the founding member of Nazareth, the scottish hard-rock formation. Gianluca Ginoble, Ignazio Boschetto and Piero Marona of
Il Volo
are the high flyers of operatic pop music. Bologna-born
Gianluca Vacchi
originally was a hobby DJ and became a world-famous performer in demand. Devoted followers of the underground genre the Italian
Meduza
(Luca de Gregorio, Mattia Vitale) are the most fashionable formation nowadays. Two members of
Silent Circle
Martin Tyschen and Jürgen Behrens are the professional representatives of the 80's Eurodance style. The Austrian
Joy
, (ie Michael Scheickl), Leo Bei and Andy Schweitzer also follow this musical trend. The latter one using the pseudonym name
Fritz
performed his successful hit called "Budapest".
Blake
(Ollie Baines, Stephen Bowman and Humphrey Berney) is a crossover vocal group combining classical and pop music styles.
Sasha
alias Alexander Coe is a Welsh DJ who in music is always one step ahead of his time.
Haiducii
(Paula Mitrache) Italian-Roumanian actress who is best known for her international success "Dragostea Din Tei".
Edina Pop
, originally called Marika Késmárky lives in Munich and used to be one of the faces of the Dschingis Khan band.
Petra Silander
is a model and actress living in Paris is the DJ of The Race After Party.
Adam Brown
is an English actor and comedian, main character of numerous movie films and TV series.
Peter Aerts
, the Dutch Mr K-1 represents martial arts in our compilation.
"Tio" Ellinas
Cyprian car racer, winner of Porsche Carrera Cup in 2018.
Arthur Leclerc
of Monaco is racing as a member of the Ferrari team.
Walter Lechner
former Austrian racer currently helps car racing as a manager in a business hallmarked by his own name.
Sigfried Stohr
Formula-3 championship winner in 1978, who later also competed in Formula-1. The Swiss
Simona de Silvestro
is a woman's test driver of Formula-E. The successful career of
Fabrizio Barbassa
Monza car racer was broken up by a serious accident in 1995.
Enrico Crippa
chef of Piazza Duomo holds three Michelin stars.